Protective Measures and Continuity of Operations regarding COVID-19
An Emergency Declaration was enacted in Kiowa County regarding the spread of the COVID-19 virus. To ensure the continued operation of the Kiowa County Government Office through this pandemic, the Courthouse has been placed on restricted movement through the building. Any County business is preferred to be conducted by US Mail, Email or Fax during this time. If you require access to conduct your business, please contact that specific office and make an appointment. Once an appointment is made you will be screened based on Department of Health Guidelines prior to admission.

Emergency Mgmt 580-530-2002
County Clerk 580-726-5286
County Assessor 580-726-2150
County Treasurer 580-726-2362
Court Clerk 580-726-5125
Commissioners 580-726-3377
Election Board 580-726-2509
District Attorney 580-726-3335
Judge's Office 580-726-3594

COURT
If you are summoned or scheduled to report for Court, please contact the Judge's Office to ensure your Court Date has not changed.
Once your business is concluded, please exit the Courthouse.

** PLEASE USE THE NORTH DOOR ENTRANCE! All other entrances will be locked.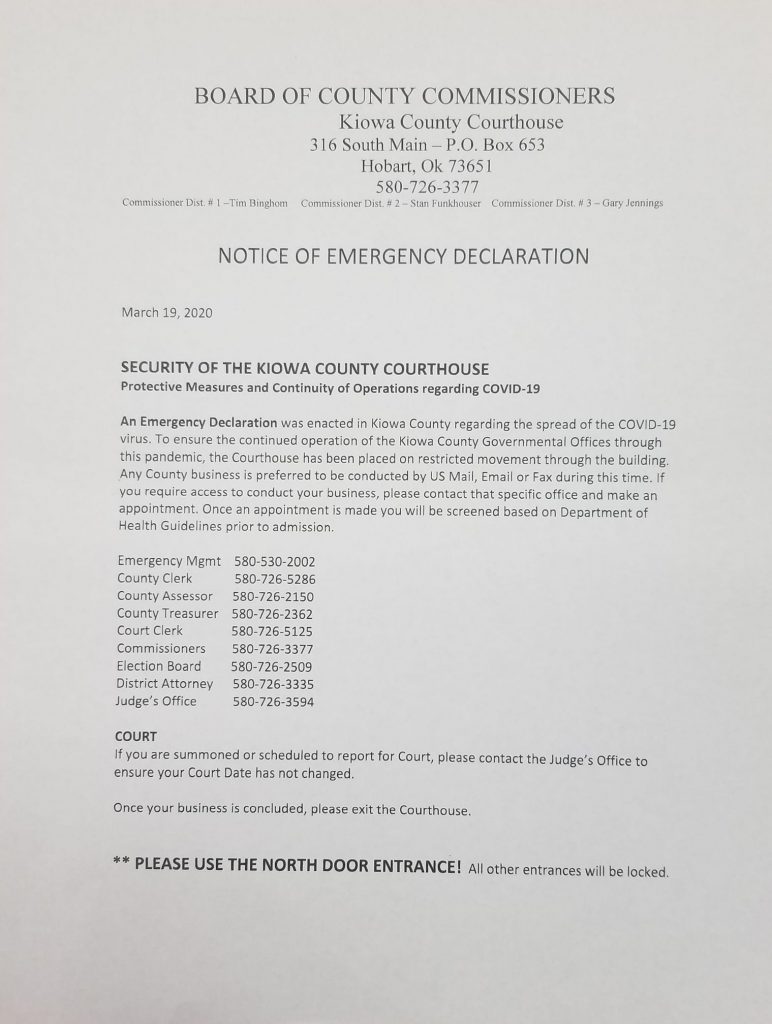 K. Latham
Programmer at Innovative Technology, Ltd.